Introduce a touch of personalised elegance to your range with our superior PU vegan leather pet collars. Each piece showcases the pinnacle of adjustability and comfort across various sizes, accommodating pets from the petite to the grand. Crafted for excellence, our collars are imaged with advanced sublimation printing techniques to ensure your customers' designs are permanent, vibrant, and of the highest quality.
Sublimation Printed: Offer your customers the best with sublimation printing that promises lasting, fade-resistant designs.


Ethical Luxury: Our PU vegan leather is a testament to style without sacrifice, ensuring a guilt-free, premium product offering.


Size Inclusive: Cater to every customer with 3 adjustable sizes that grow with their pets, from the smallest of puppies to the most majestic hounds.


Design Versatility: Perfect for custom creations, from brand logos to personalized art, making it an attractive offering for pet owners who seek uniqueness.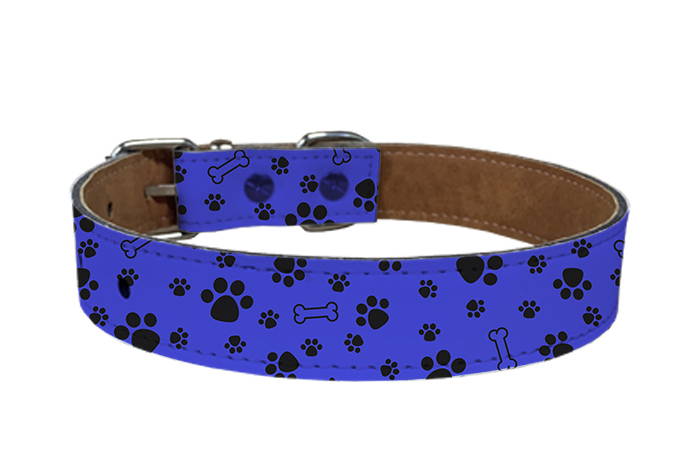 Dog Collar
Small 22cm - 30cm £7.95
Medium 33cm - 43cm £9.50
Large 48cm - 55cm £10.50
Size: 1760 x 193 pixels

Resolution: 200 dpi
Colour Space: RGB
File Type: JPG or PNG
How To Design For Dog Collars
How To Add A Product Using The App
Learn the art of creating personalised products through our comprehensive video tutorial.


Discover the differences between static and personalised products. Explore step-by-step instructions on adding a photo upload section to your products, allowing customers to customise their purchases with favourite images.
Unlock your creativity by incorporating text fields with font and colour selections. Delve into more advanced features like mandatory fields, auto-sized text, and precise alignment for a polished finish and finally push your finished product to your Shopify store. The detailed 20-minute tutorial covers all aspects of creating personalised products.
Personalised Product Set Up Tutorial