Introducing our meticulously crafted Faux Leather Ladies Purse in timeless black, where elegance meets practicality.

Elevate your style, embrace ethical fashion, and simplify your life with our Faux Leather Ladies Purse in classic black. Experience the perfect fusion of fashion and function, where every detail has been carefully considered, enhancing your daily routine. Discover the enduring beauty and practicality of Pictaleather today.


Classic Black: Elevate your style with this sleek and versatile black purse, a true embodiment of timeless sophistication.


Vegan-Friendly Faux Leather: Crafted with ethical fashion in mind, our purse boasts high-quality vegan-friendly faux leather that's soft, luxurious, and cruelty-free.


Image Perfection: Thanks to Pictaleather, your chosen image will forever adorn this purse with sharpness and vibrancy. No fading or blurring over time – it's a promise we keep.


Secure Organization: Our ladies' purse features a thoughtfully designed 3-fold structure for effortless access. Inside, you'll find a treasure trove of compartments, including credit card slots, a dedicated note section, and a handy zippered coin holder.


Compact Convenience: Measuring at 10.5cm x 19.5cm, this purse is perfectly sized for your daily needs. Slip it into your bag or carry it as a standalone statement piece.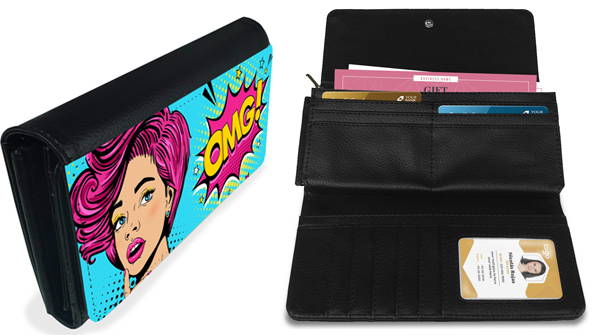 Ladies 3-Fold Purse
Price £9.95

Size: 1567 x 685 pixels

Resolution: 200 dpi
Colour Space: RGB
File Type: JPG or PNG
How To Add A Product Using The App
Learn the art of creating personalised products through our comprehensive video tutorial.
Discover the differences between static and personalised products. Explore step-by-step instructions, how to add a photo upload section to your products, allowing customers to customise their purchases with favourite images.
Unlock your creativity by incorporating text fields with font and colour selections. Delve into more advanced features like mandatory fields, auto-sized text, and precise alignment for a polished finish and finally push your finished product to your Shopify store. The detailed 20-minute tutorial covers all aspects of creating personalised products.
Personalised Product Set Up Tutorial